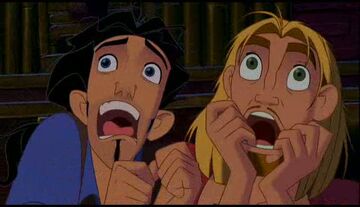 Rose: They're rats! Dozens of rats, vacuum-packed rats. The Doctor: And you decided to scream. Mickey: It took me by surprise! The Doctor: Like a little girl?
Mickey: It was dark, I was covered in rats!
&nbsp The Doctor: Nine, maybe ten years old. I'm seeing pigtails, frilly skirt...
—Doctor Who, "School Reunion"
As a tough masculine fighter, you never cry, never wince at a hit, and talk in a manly baritone. But it's amazing how a Groin Attack, little needle, or garter snake can make your voice rise four octaves into a three-year-old's scream. It seems inherently funny to see this grown man emit a girly scream. This trope is usually played for laughs, as it is hard to take the image of a man who Screams Like a Little Girl seriously. This is sometimes associated with a Camp Gay or the Non-Action Guy character.
See Also: The Scream, Screaming Woman, Screaming At Squick.
Anime and Manga
Edit
Films — Animation
Edit
Films — Live-Action
Edit
Mike: (high-pitched voice) Who took my purse?!
Live-Action TV
Edit
Western Animation
Edit