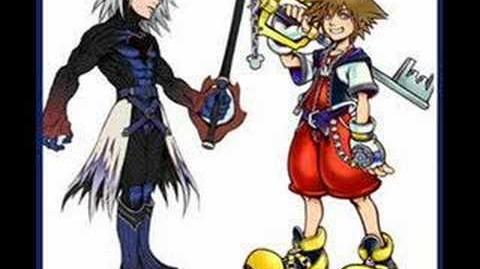 Sora's Sacrifice
is one of the soundtracks in
Kingdom Hearts.
It's also in the English version of
Yu-Gi-Oh!
.
Kingdom Hearts
Edit
In the Hollow Bastion, the Final Keyhole begins reacting to the presence of Kairi's heart. Sora attempts to lock the Keyhole, but without Kairi's heart, it is not complete and cannot be sealed. Sora puts two and two together and realizes what he has to do; despite Donald and Goofy's desperate pleas, Sora stabs himself with the Keyblade of People's Hearts left in Riku's wake, releasing all of the princesses' hearts (including Kairi's) and completing the Keyhole, but Sora falls into darkness himself.
Yu-Gi-Oh!
Edit
During the Virtual World arc, Chris discovers that XANA made William magic-proof. He asks Jeremie if he copy XANA's shield and he did. Yami, drawing on the strength of his friends, was about able to activate Card of Sanctity and draw himself a brand-new hand (One card for each of his friends), and Chris realizes what he has to do; forcing the turn to reset. Despite Yugi and Yami's desperate pleas and XANA's warning that Chris' friends died if he break the statues, Chris shatters the petrified group with his VWXYZ-Dragon Catapult Cannon in XANA's enrage, releasing all of Yugi's friends' sparks (Jeremie created his own versions of the Transformers' sparks) and allowing Jeremie to activate his new People Recreation Program to revive everyone with the copy of XANA's shield and are remained unpetrified, but Chris' soul gets sucked into the Millennium Puzzle.