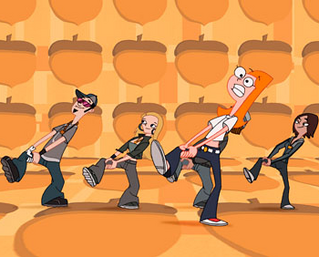 Rapper: Now somebody, anybody, everybody, scream!
Candace: *screams* There's squirrels in my pants!
Rapper: Wow! That girl's got some serious squirrels in her pants!
A sequence where a character somehow ends up with one or more small live animals in their clothing. Naturally they're going to go crazy over it, twisting, squirming, and grabbing to get whatever's in their clothes out. This trope often appears as ants in one's pants.
Occasionally, their movement and gyrations to get rid of it makes people think that they're dancing. Sometimes, the onlookers join in.
Oop North, people do this on purpose.
Examples:
Edit
Anime and Manga
Edit
Live Action TV
Edit
Video Games
Edit
Western Animation
Edit
Ad blocker interference detected!
Wikia is a free-to-use site that makes money from advertising. We have a modified experience for viewers using ad blockers

Wikia is not accessible if you've made further modifications. Remove the custom ad blocker rule(s) and the page will load as expected.