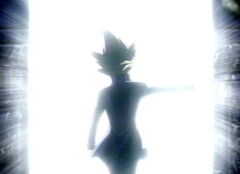 The Final Duel - Part 4 is Episode 224th of the Yu-Gi-Oh! second series anime.
This episode marks the end of the final Duel between Yugi Muto and Yami Yugi to determine the Pharaoh's fate.
Major Events

Edit
(NOTE: for steps in the Yami Yugi and Yugi Muto Duel please see the Featured Duel section below)
Yugi's Final Attack

EditEdit
Farewell Pharaoh Atem

Edit
In his final move of the Duel, Yugi uses "Silent Magician" to attack Yami directly and wins. Yugi falls to his knees in tears.
The Eye of Wdjat starts shining.
The Eye of Wdjat opens and reveals a door. Yami starts walking towards it.
Everyone: "Pharaoh!"
Téa Gardner: "Don't go!'"
Tristan Taylor: "So that's how it ends huh? Nice! You think you can just go up and change everybody's life and then just leave?"
Everyone starts crying.
Yami enters the doorway and his clothes change to those of Pharaoh Atem. On the other side of the portal are his family, friends, and Sacred Guardians (left to right: Karim, Shada, Isis, Mana, Shimon, Aknadin, King Aknamkanon, Priest Seto, Mahad). The doorway closes behind him.
Téa Gardner: "He's gone.'"
Yugi Muto: "Well Pharaoh... goodbye."
Suddenly the ground and walls start to crumble. The Millennium Stone disintegrates and the Millennium Items fall down a chasm in the ground. As the group runs to safer ground towards the exit, the spirit of Shadi watches them leave as the walls continue to crumble.
A New Adventure? A New Threat!
Edit
They all look up into the sky when a meteor fragment from the planet Mars' rubble of Olympus Mons' explosion interrupts them by crashing into the underground cavern.
Yugi Muto: "What in the world is going on?"
Téa Gardner: "I don't know."
Serenity Wheeler: "It's looks like a meteorite."
Then suddenly, Courage had the willies, as Mars begins to shake violently. Team Lyoko find out some bad news. Immediately after the trio brought the Dragon Balls back, Sissi utilized them with Aelita's help when the year was not up which means so Mars is due to explode in one day time.
Everyone gasps in horror
Narrator: "Before the Lyoko Warriors had time to celebrate over Pharaoh Atem, an even greater threat has emerged! With just two days to search the entire galaxy for the Black Star Dragon Balls, what hope does Mars have for survival? Stay tuned for scenes from the next Yu-Gi-Oh!"